Re: Mail history in Odoo via Outlook/Gmail API for CRM purposes
Contributors mailing list archives

Re: Mail history in Odoo via Outlook/Gmail API for CRM purposes
by
-
30/08/2023 10:41:53
Hi Tom,
with the plugin you can add emails to existing records.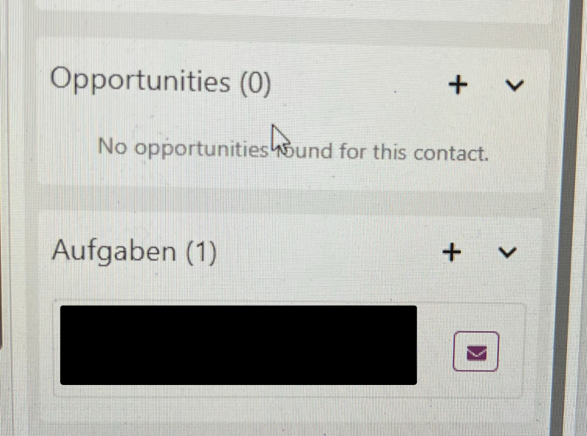 If there is a record in crm or Projecttasks, you can add the mail to the record by hitting the envelope in the proper section. If there is no record, you can create one by using the "+".
No autosynch but manual adding is provided.
All the best
Nils
-- 


NICO SOLUTIONS - ENGINEERING & IT 
Inhaber (Owner): Nils Coenen 
Dr.-Ruckert-Str. 1G 
28865 Lilienthal 
Deutschland (Germany) 
Ust.-Idnr. (VAT-ID): DE341437044 

Kontakt (Contact): 
Tel.: +49 (0)4298-4667492 
Mail: info@nico-solutions.de 
Web: https://nico-solutions.de
Diese Mitteilung ist ausschließlich für den beabsichtigten Empfänger bestimmt. Sie kann Betriebs- oder Geschäftsgeheimnisse oder sonstige vertrauliche Informationen enthalten. Jede(r) unberechtigte Gebrauch, Kopie, Weitergabe oder Veröffentlichung ist untersagt. Sollten Sie diese E-Mail irrtümlich erhalten haben, benachrichtigen Sie uns bitte sofort durch eine Antwortmail und löschen Sie diese Nachricht nebst etwaigen Anlagen und einschließlich aller angefertigten Kopien von Ihrem System. 

This message is for the sole use of the intended recipient(s) and may contain trade secrets or other confidential and privileged information. Any unauthorized review, use, copy, disclosure or distribution is prohibited. If you are not the intended recipient, please inform us immediately by reply e-mail and delete this message including any attachment or copies thereof from your system. 
Von: Tom Blauwendraat <notifications@odoo-community.org>
Antworten an: "Odoo Community Association (OCA) Contributors" <contributors@odoo-community.org>
Datum: Mittwoch, 30. August 2023 um 10:27
An: Contributors <contributors@odoo-community.org>
Betreff: Re: Mail history in Odoo via Outlook/Gmail API for CRM purposes
Hey Rafael,
this looks like something else though? This seems to be about using plugins in Outlook, to do actions in Odoo; not for copying mails to Odoo.
On 8/29/23 22:37, Rafael Blasco wrote:
Hello Alexis,

 

We use it since v14 natively both, Gmail an Office365

 

https://www.odoo.com/documentation/16.0/applications/productivity/mail_plugins.html

 

https://github.com/odoo/odoo/tree/16.0/addons/mail_plugin

https://github.com/odoo/odoo/tree/16.0/addons/crm_mail_plugin

https://github.com/odoo/odoo/tree/16.0/addons/project_mail_plugin

 

Maybe some features are Enterprise but base is CE

 

Regards,

Rafael Blasco

Moduon Team

 

 

 

Dear OCA friends,

 

One of my customers insists on having all the emails exchanged with a

customer/prospect in Odoo, which is a standard feature of all serious

CRMs. In Odoo, this is a native feature : you should send your emails

from Odoo and the answer will come back to Odoo, so that you will have

the full history of emails in the chatter. But, in real life, nobody

wants to use Odoo as its mailbox. Salesmen want to use their

Outlook/Gmail/... to send emails to customers. And the mail stack of

Odoo is such a nightmare, that "the less I use it the better" !

 

I made a little research, and it seems that, nowadays, CRM software

(Hubspot for example) use the APIs of Gmail and Outlook 365 to get the

emails of the employees and copy them to the CRM.

In this presentation of the Outlook 365 API [1], in the Youtube video

at the top of the page, they talk precisely about using the API for

this specific CRM scenario (start watching at 1:00 minute).

 

Are you aware of any opensource Odoo module using the Gmail API [2]

and/or Outlook 365 API [1] to copy the emails sent/received to a

customer/prospect in the chatter of the partner/lead in Odoo ? So far,

I haven't found any...

 

If not, what you point of view on such a feature ? Would you be

interested to work on a prototype with me ?

 

[1] https://learn.microsoft.com/fr-fr/graph/outlook-mail-concept-overview

[2] https://developers.google.com/gmail/api/guides?hl=en

 

 

-- 

Alexis de Lattre

Akretion France - 27 rue Henri Rolland - 69100 Villeurbanne - France

Mail : alexis.delattre@akretion.com

Mobile : +33 6 99 08 92 45
Reference
by

Alexinux, Alexis de Lattre

-

29/08/2023 18:56:31

- 0