Re: OCA Weblate, how to add new language?
Contributors mailing list archives

Re: OCA Weblate, how to add new language?
by
Ecosoft Co. Ltd., Kitti Upariphutthiphong
-
30/09/2020 15:00:56
Looks like I don't have the permission. How can I have it?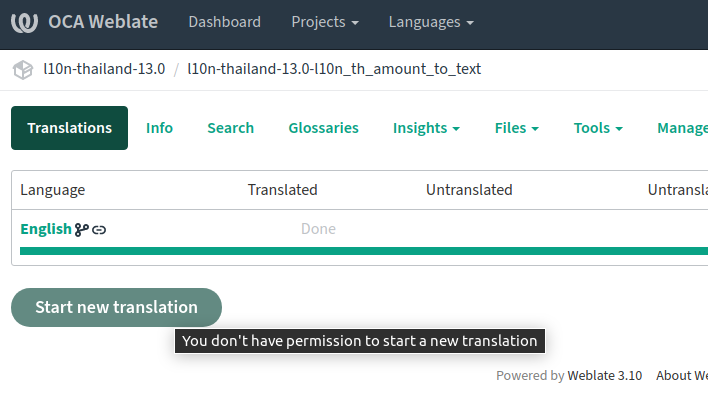 You need to add the language on each component.

 

Select the module and then, you will see the button "Start new translation"

 

 

Kind regards,

 





Tanto este mensaje como los documentos que, en su caso, lleve como anexos,
pueden contener información reservada y/o confidencial, destinada exclusivamente
para el uso del destinatario o la persona responsable de entregarlo al mismo,
estando su uso no autorizado prohibido legalmente.
Su contenido no constituye un compromiso para Creu Blanca (la empresa remitente)
salvo ratificación escrita por ambas partes. En caso de su recepción por error,
rogamos nos lo comunique por igual vía, se abstenga de realizar copias del mensaje
o documentos adjuntos, remitirlo o facilitarlo a un tercero, y proceda en su defecto,
a su eliminación.

Reference
by

Ecosoft Co. Ltd., Kitti Upariphutthiphong

-

30/09/2020 12:08:46

- 0