OCA DAYS 2023




Registration and Sponsorship




We only have a few spaces left - you can register here.

Did you know it is the same price to become a member and register for the OCA Days (€50) as it is to register for just the non-member ticket (€75)? You still have time to become a 2023 member and then just book your member event registration for the OCA Days.

We have two levels of event sponsorship available - Premium for €2000 and Standard for €1000. You can find out more on the event page or email our General Secretary now - if you become a sponsor 2nd October we'll be able to add you to the printed roll up banners. 

You can still sponsor after this date but we will be unable to add you to the printed signs at the event, but you will still be displayed on everything else in your sponsorship package.

Set Up on Sunday

We need some help setting up at the venue on Sunday 5th November - we'll be there from around 5pm for a couple of hours - please let us know if you can join us to help set the area up.

Have you let us know if you are joining us at La Grand Poste on Sunday evening - we'll provide a couple of drink tickets and some finger food. The great thing about this venue is they have a full food market, if you want something more substantial than the nibbles and drinks provided you are more than welcome to purchase at your leisure.

IF YOU ARE REGISTERED FOR THE OCA DAYS LOOK OUT FOR INFORMATION EMAILS OVER THE COMING WEEKS.

OCA UPDATE




Membership and the AGA

The Annual General Assembly is coming up in October

If you are a current paid Member for 2023 and interested in becoming a Delegate this year keep an eye out for upcoming AGA information to propose yourself. You'll then be able to vote in the AGA.

If you are already a Delegate please make sure you have paid for your 2023 membership so you can vote - you can contact our General Secretary to check if you aren't sure.

You need to be a Delegate to apply to become a Board member if this is of interest to you.

If you have any questions about the AGA please, get in touch

Key Dates


9th - 20th October  - Week 1 & 2: OCA current paid members of 2023 invited to apply their candidacy to become an OCA Delegate

23rd October  - 3rd November - Week 3 & 4: Active OCA Delegates vote for 10 new OCA Delegates

6th - 17th November - Week 5 & 6 (OCA Days week included): 
Announce Delegates at OCA Days (6th -7th Nov)
OCA Delegates announce their candidacy to become an OCA Board Member or Financial Auditor (for the FA the applicant does not need to be a Delegate) on the Delegate mailing list

20 November - 1st December - Week 7 & 8: OCA Delegates vote for board members, auditors, financial statements

4th December - Week 9: New board announced

Functional Workgroup - Documentation Project

Documentation of OCA modules has been identified as one of the main areas where functionals' expertise can be useful.

We've implemented Markdown in place of RST for Read Me, to find out more about the changes and the impact of these on our latest blog post by the Functional Workgroup Documentation Team



 
TOGETHER WE ARE OCA
OCA Chatter






One of the wonderful things about the OCA Community is the constant search for expanding our knowledge and understanding. 

Virginie Dewulf caught up with Karin Bröking from initOS to find out more about her Masters Thesis in Open Source Communities.
Functional Survey : OCA Tools
The OCA Functional Working Group was created after the OCA Days 2022, with the desire to attract more people with a functional role to OCA, to facilitate their understanding of the OCA processes, and (hopefully!) contribute to the Community.
One of the group's working teams was specifically tasked with: 
Promoting the OCA tools provided by the community: Github, Weblate, Runboat (among others…), and helping new functional people familiarize with them

Improve discussion and exchanges between functional people and developers on different topics
We would like to invite all the people with a functional role in their company to fill in this survey: what we want to know from you is which OCA tools are you using and which OCA tools would you like to know more about? 
Please feel free to share this survey with your functional colleagues that are not subscribed to the newsletter (...and then get them to subscribe!)
GREAT TOOL AT OCA
Migrating for the Future: Setting up your Odoo system for the next version
With Odoo's flexibility, it's tempting to over complicate and over customize a company's current Odoo implementation.
On the OCA YouTube channel you can watch Open Source Integrators Managing Director LATAM and R&D Director Maxime Chambreuil explain in this presentation how to prevent creation of code debt that hinders your company's process for migrating to future Odoo future versions. By using the principles of simplicity in your current version, you're giving yourself the gift of a smooth path to migration when the time is right.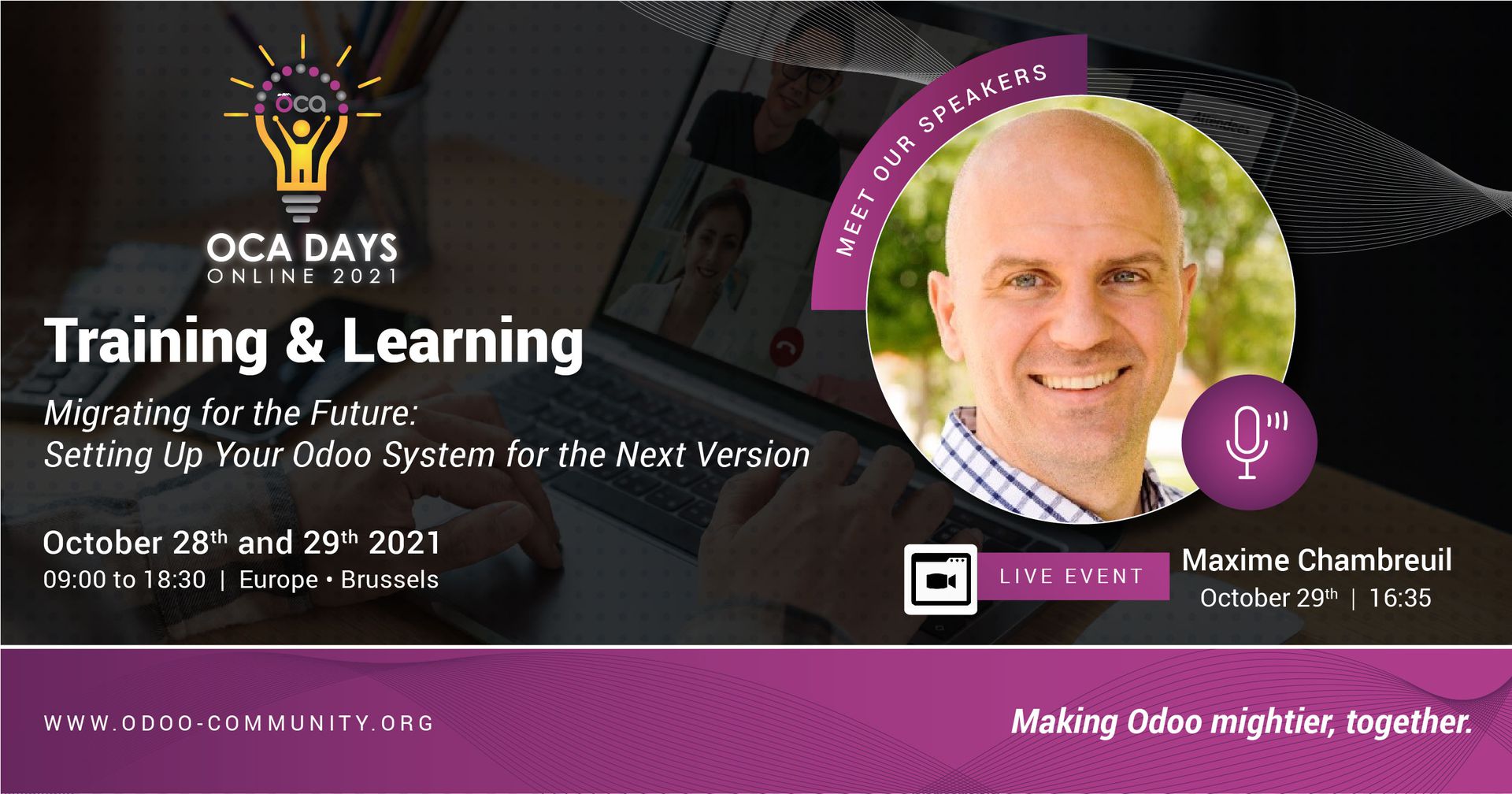 Become a Member

Have you purchased your

membership for 2023?  There is still time


Join us and help support the community.