Rentrée!
September issue of the OCA Newsletter
Surely most of you have had some deserved vacations, and are full of energy to get back to work. Open Source is a wonderful world to be at! We at Odoo Community Association have a new elected board, we are all excited and motivated to do more everyday to have a larger and better community.
Here are the noteworthy highlights from the last couple of months.
We are now an OSI Affiliate
We are proud to annouce that the OCA was accepted an an Open Source Initiative Affiliate, alongside names like the Python Foundation, Mozilla Foundation, Wikimedia and Wordpress. Here is the communicationwe received:
"Congratulations are in order as the OSI Board voted unanimously to accept Odoo Community Association's application as an Affiliate Member. We are so very happy to have OCA on board and look forward to working with you and the OCA community. The OSI has identified several opportunities and initiatives as we extend our outreach across the open source community and we hope we will be able to work together to extend our mission while supporting OCA's efforts."
The Open Source Initiative (OSI) is a non-profit corporation with global scope formed to educate about and advocate for the benefits of open source and to build bridges among different constituencies in the open source community. It is our expectation that this collaboration will reinforce the message on OCA's commitment to open source, and that it will help in a greater visibility on Odoo and it's community.
The Odoo event of the year is just around the corner, and the Odoo Community Association is very excited to meet you there. If you haven't booked your seat yet, don't wait and register now. As a proud Platinum Sponsor, we would like to invite you to your booth to meet community members, discover the OCA and discuss the open source ecosystem and community behind Odoo.
2016 General Assembly
The 2016 General Assembly was run in August, and the results were published on the Delegates mailing list on the 29th August. The 2015 financial statements and activity report were approved, and the new board and financial auditors were elected by the Delegates. Following the 2016 OCA General Assembly, which took place online during the month of August, the OCA is proud to introduce you to:
As Financial Auditors:
Luc De Meyer,

Graeme Gellatly, and

Samuel Lefever

.
Joël Grand-Guillaume (President)

,

Maxime Chambreuil (Vice-President),

Éric Caudal (Treasurer),

Alexandre Fayolle (Secretary),

Daniel Reis (Communication),

Sébastien Beau (Events),

Stéphane Bidoul (Support)

,

Jordi Ballester Alomar (Members),

and
Pedro M. Baeza (PSC).
The board already had two meetings this month. Check out the blog post reporting on the topics discussed.
"This book fills an important gap for Odoo users. Ursa's work to document best practices for Accounting will help companies gain accurate and complete results." -- Fabien Pinckaers. Updated to include Versions 9 and 10.
A foundational piece of any successful Odoo implementation is configuring and running the Accounting module. Financial Accounting with Odoo takes the mystery out of this critical aspect by detailing topics such as initial setup, inventory and manufacturing accounting, daily and periodic operations, and reporting. Financial Accounting with Odoo provides a step by step approach, starting with initial system setup and continuing through closing and reporting procedures.
Following this approach, readers learn to configure Odoo ERP to produce accurate and complete results. Readers will learn how to operate their Odoo ERP system with confidence and reliability. Financial Accounting with Odoo is geared toward US, UK, Canadian readers, as well as from other countries with similar accounting standards. For years, Odoo users have focused on building their business, while enjoying the freedom that Odoo ERP offers. Independence and lower costs are just two of many benefits that come with this Open Source, Enterprise grade ERP system. Odoo is unique in this market space, and its users are poised for growth and unmatched competitive advantage.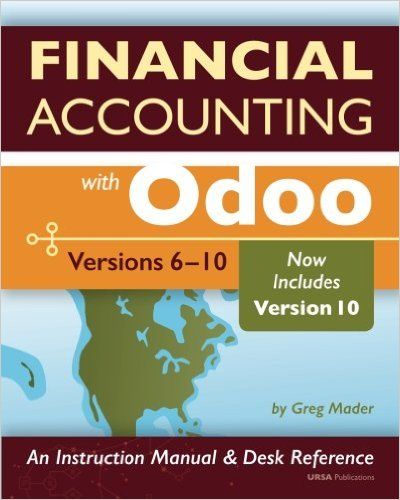 Highlighted Features
The Management System repository provides a wide range of features to support Quality Management and similar management systems. Allmas IT sponsored a team to port the existing modules from version 8.0 to 9.0. Thaks to our sponsor, these features are now available on 9.0 for all the community to benefit from them.
This Export manager module was improved to now provide an export permission on access rights.
Thanks to Holger Brunn, the Open upgrade project now has tests! This will surely be very helpful for the review of the pull requests on this important project.
If you know about some new features or improvements worth mentioning here, please tell us about it by writing to news@odoo-community.org.
Events and Local Communities
Future Events

September 28th - Meetup in Querétaro, Mexico
Join Odoo Querétaro to discuss the application, the mexican community, the integrators, the case studies, latest news, coding practices, implementation methodology,...
This group is open to existing and prospective users and integrators, business applications enthusiasts, technical and functional consultants, Python developers and open source fans.
October 3rd - Code Sprint in Louvain-la-Neuve, Belgium
If you missed it last year, here is your chance: The OCA will organize a 2-day code sprint before the 2016 Odoo Experience. Location in Louvain-la-Neuve is not determined yet, but you can already book your dates to live the most exciting week in the Odoo Community.
October 5th - Odoo Experience in Louvain-la-Neuve, Belgium
Learn and network with Odoo global community over this exciting 3-day event! Discover the latest news including the release of the all new Odoo version 10 with demos of redesigned features and never-seen-before apps.
Heartbeat & Activities
New Contributors, PSC and PSC Members
In the last couple of months a few more Repositories and Project Steering Committees have been added to the OCA:
The Cambodia localization is giving its first steps in the OCA, and the corresponding Project Steering Committee was created, featuring Chan Nath as the representative.
New members have been appointed for the Italian PSC. Welcome to Francesco Apruzzese and Andrea Gallina.
A new repository oca/infrastructure-dns has been created, overseen by the Tools PSC. The objective is to gather tools to manage DNS servers or records inside Odoo. A first contribution has been made by Elico Corp to provide a DNS base module (connector_dns) based on the odoo-connector framework. This repository might be the first of a series dedicated to infrastructure as some contributors (@lasley) has already mentionned some connectors with AWS.
About the OCA
OCA, the 
Odoo Community Association
, is a non-profit organization whose mission is to support the collaborative development of Odoo features and promote its widespread use.
Contact information: news@odoo-community.org
Photo credit: Pexels, used under CC0 license.