OCA AT ITS BEST: Sponsoring and presenting OCA at PyCon DE 2018 in Karlsruhe Germany By Joerg Lorenz - IT IS - AG
Now, if there is one thing we know for sure: Be good and talk about the good things around. That's what we did in Karlsruhe last week. Some 600 python enthusiasts and professionals gathered to discuss advances in python and all kinds of beneficial tools and applications.
OCA did endorse the event and held its place there beside the other sponsors, e.g. Daimler,  yelp, SAP and others. The sponsoring of this event was good to get the word out about OCA and Odoo. Announced as probably the biggest python open source application around, we could draw interest from the attendees, which consisted of data researchers, scientists, professionals and students from many different disciplines.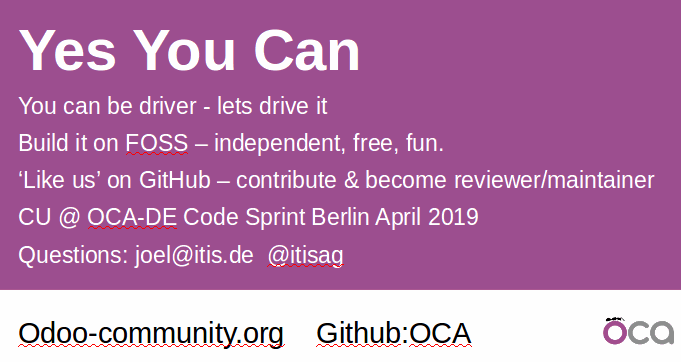 IT IS AG delivered a Lightning Talk on the second day of PyCon DE spreading the word about the OCA and Odoo.
Day 2: We were lucky enough to get nominated for a Lightning Talk about OCA. You can see  video footage on the youtube link. At the social event later on, we had numerous talks about the app with folks from ESA, Deutsche Bahn and likewise. Also, we made friends with two folks from Canada (Canadian women with Persian heritage and a Canadian Chinese guy) and talked till the end of the evening.
Day 3: Departure day, although the event also continued with the PyLadies (charming :-)  and the other hackers who are making Python better. After all it is our basis (mostly), so it is always good to see good things there. More about the event at https://de.pycon.org/blog/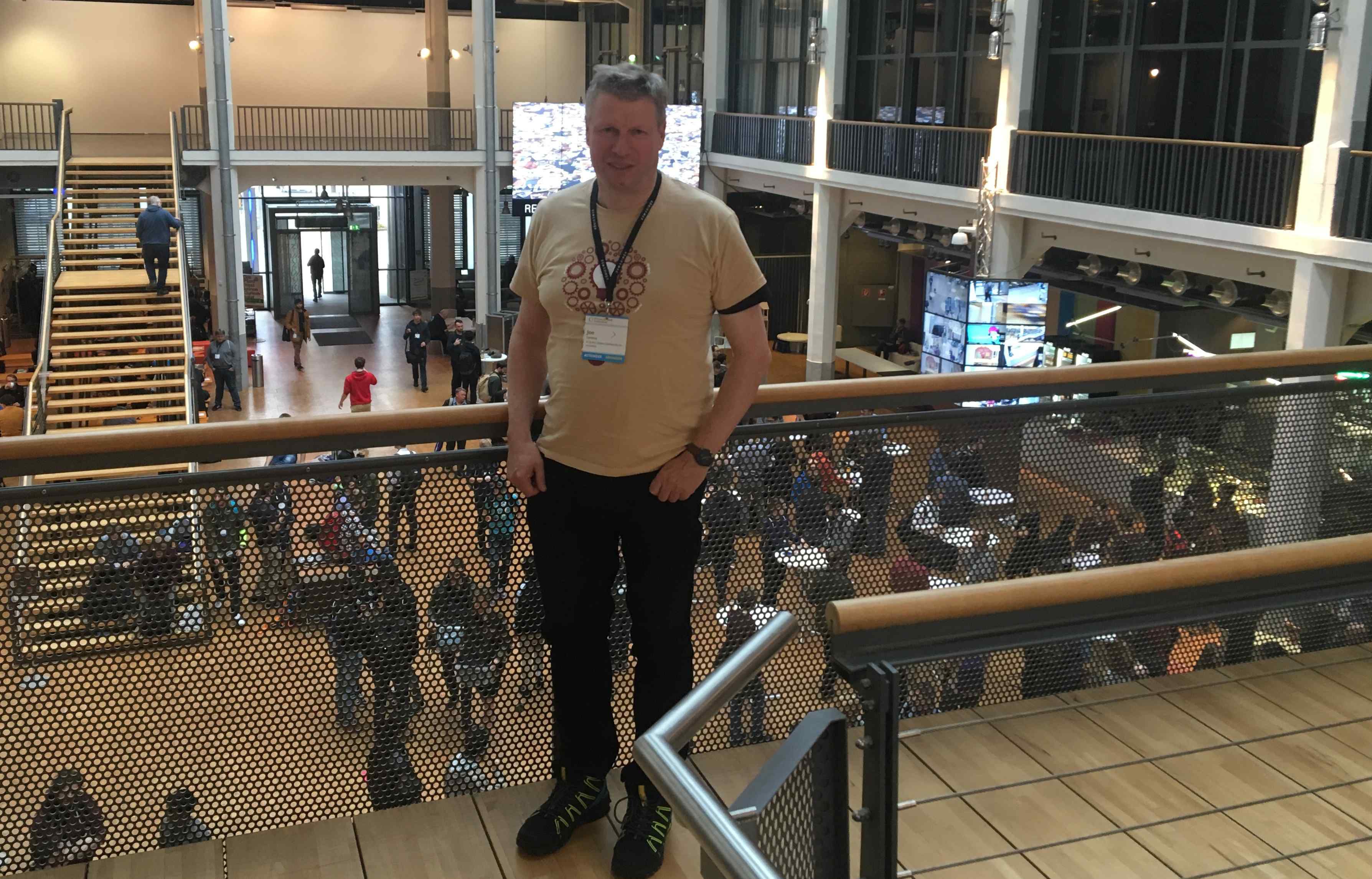 Recognise the t-shirt? OCA Days 2018 - Joerg Lorenz at Pycon DE 2018.
The OCA thanks Joe and IT IS AG  for their contribution and support in this way, it is always great to have enthusiastic members and sponsors sharing news of the OCA at events like this. As you can see Joe made a great number of contacts, managed to deliver a talk and got much more from the event.
For our other members and contributors please do contact us if there are events like this in your area that you think might be of benefit to the OCA. We fully encourage our community to participate in these types of events and we pay for booths and registration. We also share events we are sponsoring on our mailing lists and are often looking for participants to attend on behalf of the OCA.
We look forward to hearing from you events@odoo-community.org