The new OCA Logo workgroup (made up of OCA enthusiasts who responded to a call out in late 2023 for people to join the group - Julien Jezequel, Kevin Roche, Thibault Rey, Virginie Dewulf and Rebecca Gellatly) have met a number of times already this year with the most notable meeting being at the end of March. 
In previous meetings we quickly realised to be able to pitch the logo correctly to our Graphic Design team we would require a bit of assistance. Samuel Desquin from Lemonside was brought on board to help create this strategic direction.
Samuel tasked the workgroup with activities before the meeting: 
Select one of the "brand values" of OCA (see below) and think about a short story that you can share with us that illustrate well how this value is lived by within OCA. The 5 brand values are:

Cooperative

Robust

Organised

Vibrant

Independent

Pick a story and be as specific as you can

Select one of more icons on the attached slide that has a quality you like:

 It represents well one (or more) of the values of OCA

Its style/color/energy fits well with how you see OCA

A lively discussion followed within the workgroup with varied answers! From all of the communication Samuel was able to pull out the key components below.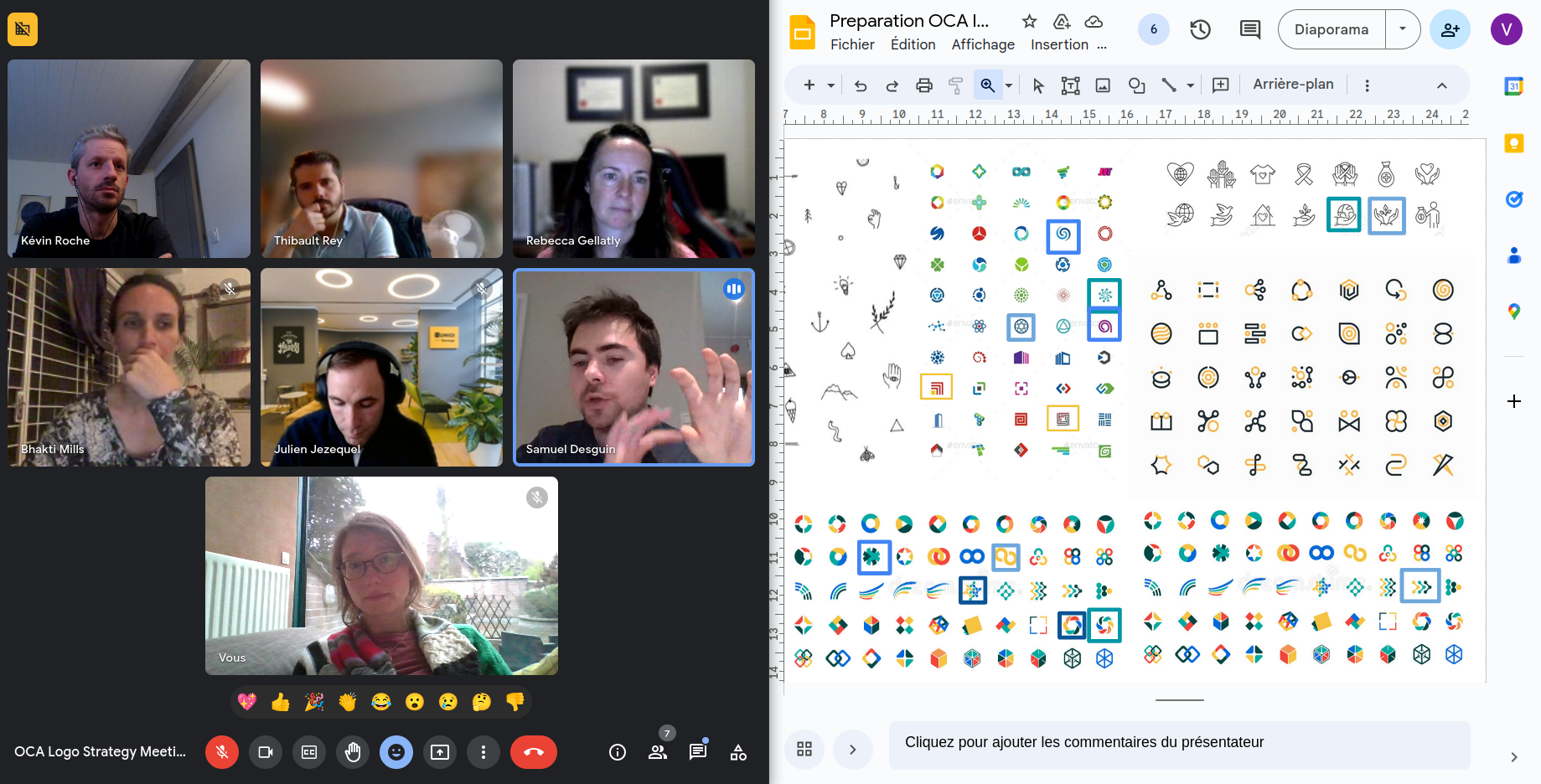 Introduction: our intention with this logo
The redesign of this logo is part of a global growth strategy, in which OCA wants to attract new users and developers. Thereby, we want this logo to represent growth and energy, but the core identity of our community. What unites the OCA community is a common goal of responding to more clients' needs by creating better code. We do so by abiding the following values:
1.    Cooperative: we interact with each other with the intention of making everyone grow, we trust each other and share all knowledge, to pursue our common goal. Together achieve things that no individual or organization could do by himself.
2.    Organized: community members come from widely different countries, companies and backgrounds, meaning good organization is even more vital than in any other organization. Our way of working strikes the good balance between the discipline needed to make it work, yet still leaving room for flexibility and initiative.
3.    Vibrant: we have a common DNA despite our great diversity, that gives us tremendous energy and passion when working together. We don't only come together to code, but to share a little bit of our lives, we are a very human organization. Our vibrancy gives us the willingness to grow, constantly moving, looking for new challenges and successes.
4.    Independent: our community is decentralized, insomuch as isn't anybody giving orders on what to do next. Each member is autonomous, contributing according to their interest and skills, even though we are all connected to our common goal of making better code for the Odoo Community.
5.    Robust: we have a market-centric approach that makes us want to produce good quality tools that will reliably answer needs from all  fields.  
We've now had the first round of proposals through and can't wait to share more information with you as the work progresses.