1. Present yourself, tell us more about you!
Hi there, I am Rebecca Gellatly. I live in New Zealand, married to Graeme (who you might know around the OCA), and we have 3 awesome children. I'm a keen hiker and love to spend time outdoors with my family. Fun fact you might not know about me - I am a junior surf life saving coach. I spend many hours at the beach over summer teaching kids how to be safe in the water and getting them ready to compete in life saving carnivals. In my spare time I am also a marriage celebrant.
2. How long have you been working for the OCA and what do you do here?
I've been working at the OCA since the beginning of 2018. I run all the behind the scenes administration - memberships, event planning and execution, the Annual General Assembly, invoicing and payments, newsletters, RFQs. If it is an admin task relating to the OCA it will probably come past my desk. I also support the board members in different project areas, for example, helping to coordinate the communication strategy project, the new OCA logo, policies, etc.
3. Do you really love open source and Odoo or is it only to please your husband, Graeme?
While I studied Information Systems back in my university days (its where Graeme I met) I didn't actually know a whole lot about Open Source till Graeme brought it into our lives. He is the "CTO" in our household as a result even our children use open source software. I love the ethos of  open source, the idea of building something to share but also finding ways to collectively make something better and improve on the base.
I found out about Odoo when Graeme was researching ERP systems back in 2009/2010. While he went to the first Odoo Days at the Odoo farm offices in Grand-Rosière ​​I took our then 6 month old into the local village. Odoo has been a part of our lives for as long as we have been parents - nearly 14 years!
4. What's the thing you prefer about the OCA community?
The OCA community is what I enjoy most about the Association. It is the people. I am not a techie (I understand quite a bit and ask lots of questions) but I am a people person. I love that on any given day I am dealing with contacts and members around the globe. 
I get so much from building the relationships I personally have with people in the community but also in connecting people and trying to help strengthen and add benefit to others' relationships.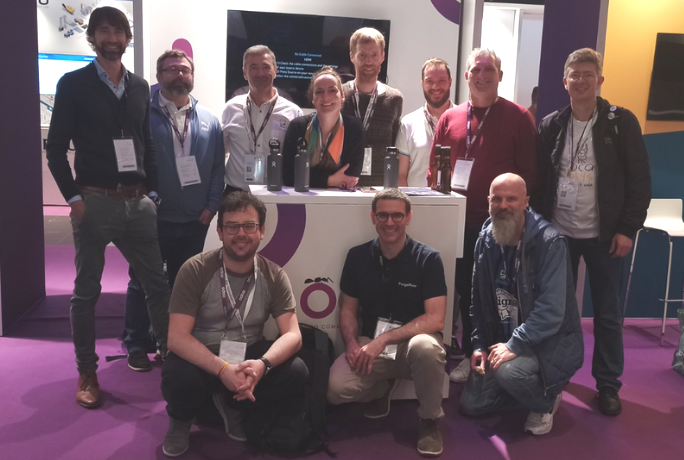 The OCA Days, when everyone comes together is always a highlight, whether online or in person, everyone is there to grow and encourage each other - it really is pretty special. Whatever our skill sets, the community is diverse and we find a way to try to accommodate everyone.

5. Is there an anecdote about the OCA you'd like to share with everyone?
It's great to see people away from their screens and getting to know each other. I like to see the "people" side of people. In 2022, the OCA held a pre OCA Days social event at a bar in Liege. After 3 years away from each other in person, it was heartwarming to see new and old friends connecting. I remember the smiles and warmth of that first night last year well. The Odoo Experience has been great for this as well - 2022 was a great example during the last concert. People of the OCA finding each other out of the many many  people to dance and sing the night away was amazing. I could share some crazy photos but I'll let the memories live on in our minds.